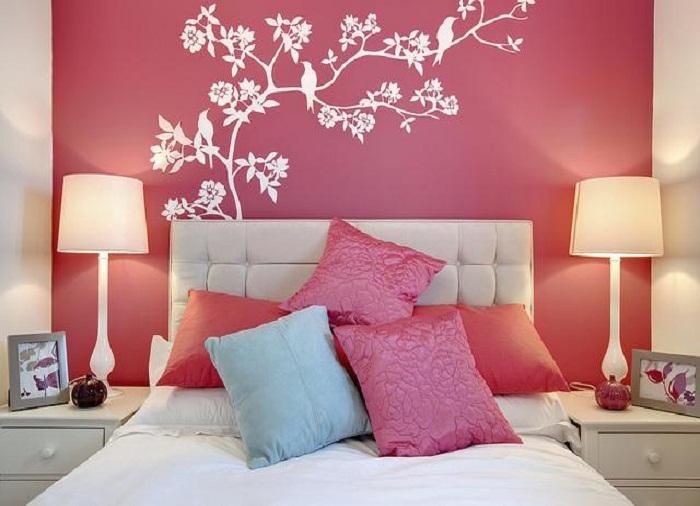 So you need some girl's bedroom ideas to paint your daughter's room, you have come to the right place.
It will happen to all little girl's at some point in time. They are no longer interested in the characters of the toddler world any more. Their bedroom, decorated in Sesame Street, Dora the Explorer, or even Barney no longer seems suitable. It is time to redecorate.
For many, redecorating may be an extreme venture, but all that is really needed to get started is to give the room a fresh, new coat of paint. If you are purchasing a new bedspread set, you might want to consider the colors of that set prior to painting. Here are some painting ideas that little girl's are sure to love:
Girl's Bedroom Ideas #1: The two toned look.
Choose two colors that compliment each other. Many people, when trying this technique, usually stay with two shades of the same color. If you want to go this route, choose a color that your daughter likes and paint the bottom half of the room in the darker color. This works best, especially if the bedroom is smaller. You can try to reverse that if you have a larger room. To separate the two colors, use a white chair rail to go around the walls of the room. The chair rail should be at about 36 inches from the floor.
However, even though most people go with the same color in two shades, I prefer to use colors of different shades, even colors on the opposite of the color wheel. Great choices for a little girl's room might be:
1. Pink and Orange.
2. Pink and Lime Green.
3. Lime Green and Purple.
4. Purple and Yellow.
Girl's Bedroom Ideas #2: The diamond look.
Once a popular look in designer rec rooms, this look works really well in a little girl's bedroom. Again, this look involves two colors. Paint the wall a base color, such as yellow, and add large purple diamonds around the room. This looks great if the diamonds even cross over to another wall. The diamond's should be large, probably at least 3-4 feet in height.
Girl's Bedroom Ideas #3: The garden look.
Strait from the pages of "The Secret Garden", you can make your little girl's room her own little secret garden. Try painting the walls all one color to begin with. Then add beautiful painted flowers along the bottom of her walls. The flowers should be large to be enjoyed, at least 24″ in height.
Turn one wall into the wall of a garden shed, complete with a wooden door and window looking out into the yard.
Girl's Bedroom Ideas #4: The fairy castle look.
Turn your girl's bedroom into a fairy castle of her own. Paint the walls in the grey stone of a castle, and give her her own turrett in the corner. Make sure to give her plenty of windows to overlook her "land".
This idea has plenty of options. Take a few fairy tale books and look throught he pictures for ideas that your child likes best. A painting, or even a decal, of her favorite princess may be an option to grace one wall. This princess could be her roomate and guest to join her in tea parties and sleepovers.
Girl's Bedroom Ideas #5: The horse farm.
Little girl's are often in love with horses, and their bedrooms can easily be turned into a horse farm. One wall could serve as a horse barn, with a few stalls and horses looking out of them. Another wall could be the pasture, with horses out grazing. Yet another wall could overlook the rolling hills of the horse lands.
If horses are not something your little girl desires, this look can be customized for another animal, such as dogs, cats, etc.
With these ideas, your little girl is apt to have the best bedroom around, and is sure to be the favorite hangout of all her little friend's.
If you yourself are not that skilled at painting, try finding a local artist to help out. If a budget is of concern, try looking around at local colleges or even the high school for an artist. They would be thrilled for the work, and will often charge a lot less than a professional artist.
Thank you for reading this article! If you have any further questions about this topic please contact us.
---