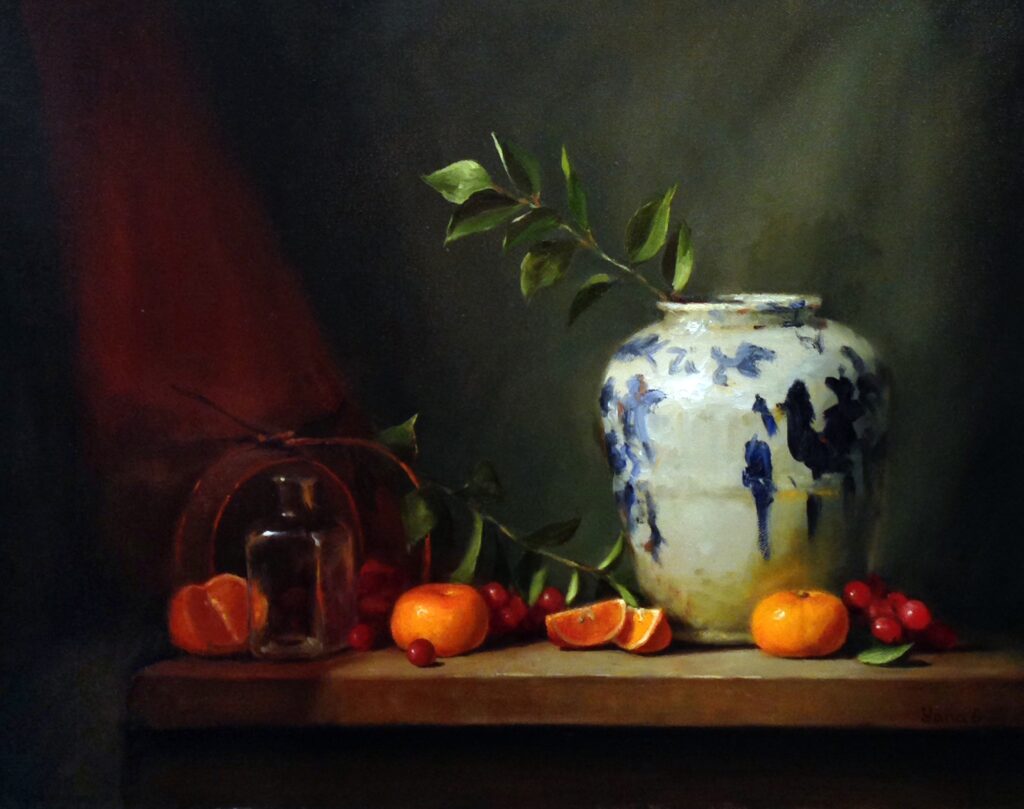 Still life painting is a genre that has timeless appeal. Though subjects may range from a slab of meat to Vincent Van Gogh's old shoes and Cezanne's fruit paintings, most people think of still life paintings in terms of fruit bowls and flowers. Highly decorative and very adaptable to different environments, still life paintings may be the easiest of all great art to live with.
Cezanne's still life paintings of fruit are an excellent example, combining as they do a traditional, representational subject with a glowing, luminous palette and vigorous brush and knife work. Cezanne's Still Life with Oranges looks as much at one with its environment in a glass and steel loft as it does in a dark-paneled study. The power and energy of this painting almost belies the phrase "still life."
Redon's flower paintings are also gems of this genre. Though more frankly decorative, they still offer mystery and vitality through gorgeous juxtaposition of colors. In his Anemones and Lilacs in a Blue Vase, for instance, the flowers seem to shimmer in mid-air, the vase fading insubstantially into shadow and the table barely hinted at.
A Wide Range of Styles in Still Life Paintings
Traditionalists might find the still life they love in the works of Henri Fatin-Latour, with their muted colors and meticulous attention to detail. Braque's cubist Still Life: Le Jour, with its sharp angles and acid greens, will suit a more abstract sensibility, while still remaining eminently livable. Within the broad confines of the still life genre, there is an image to suit every taste.
Thank you for reading this article! If you have any further questions about this topic please contact us.