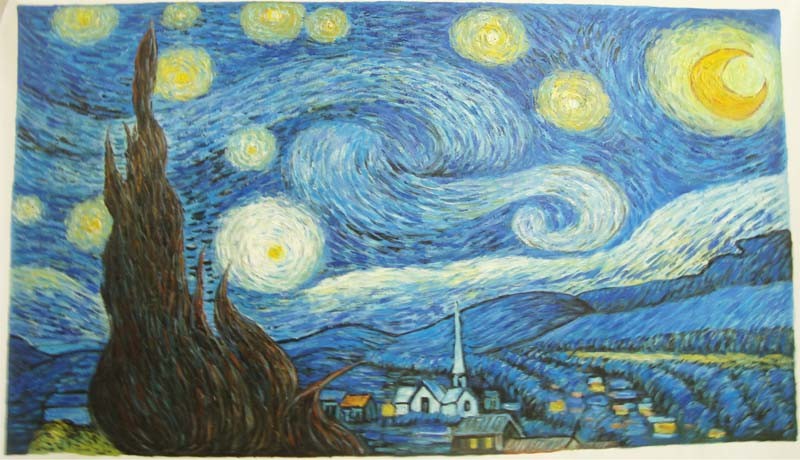 Breughel's Hunters in the Snow isn't for sale; neither is Turner's Approach to Venice. And while some Picassos and Hockneys might be on the market, few of us can afford them. Painting reproductions, therefore, is the only way for the vast majority of us to own and display great art.
Of course, painting reproductions, even the best of them, are only substitutes for the original, and don't express the genius of the artist completely. But a fine reproduction is a work of art in itself. Prints and lithographs fit into limited budgets, but hand-painted reproductions are an excellent investment and will transmit more of the original painting than a flat print.
Painting Reproductions Vary Widely in Quality
Of course you can't expect a print to catch the textured brushstrokes of a Van Gogh. And even hand-painted reproductions may be "off" in color or form. Shopping for painting reproductions on the Internet offers you a great selection and unsurpassable convenience, but you are limited to looking at a reproduction on your screen of a reproduction on canvas. Therefore, be sure that the gallery you buy from has a reputable return policy, in case the art that arrives isn't quite as you expected.
That said, online shopping for art is really the best way to find something unique, something that speaks to you personally in a way that Van Gogh's Irises or Monet's Waterlily Pond may not. Online, you can shop the galleries of the world, find artists you've never heard of and paintings by famous artists that you've never seen. And with high quality reproductions, you can have them in your own home or office.
Thank you for reading this article! We hope you enjoyed reading the article Painting Reproduction and learned new things. If you have any further questions about this topic please contact us.