A custom Painting of the Grateful Dead Is this something you're looking for? You have come to the right place! We are here to make your dream come true! to make your dream come true!
If you are Deadhead and you are looking for a custom illustration drawing / physical painting of the love band then you have come to the right place! We at Paintings Studio will be happy to create for you a digital painting associated with the Grateful Dead band. It could be anything related to a band. Whether it's a painting related to Jerry Garcia or Bob Weir. From the skull known as "Steal Your Face" to the "Dancing Bears", or any resemblance to the Grateful Dead band's songs.

And even more than that!
Once we make the digital painting you asked of us we can turn it into a real physical painting that you can hang on the wall. Isn't this the ideal way to surround yourself with things you really love and that really do you good?

Imagine you are sitting in your peaceful home and on a wall looking at you Jerry Garcia in a painting which is done exactly as you wanted. Or maybe the "dancing bears" combined with your dear family in an original and charming way?

We at Paintings Studio can make your dream come true and create for you a custom painting of the Grateful Dead, or custom paintings of the dancing bears or anything else directly or comprehensively related to the Grateful Dead!

In the following article gives an example of how you too can get in a few days the perfect gift for you or for those dear to you!

So how exactly does this work?
First of all, you need to contact us and explain to us as accurately as possible how you want us to prepare the Grateful Dead illusion for you.

In the example we present in this article, John contacted us with the following request:
"I'm looking to commission a painting for my girlfriend. She's a HUGE Deadhead, and her favorite tune is Bird Song. She used to sing it to her children to lull them to sleep, so I'd love to have a painting of her singing to her two kids, but instead of them represented as people, they're all drawn as the marching Bears, with her two kids as smaller bears, in their beds, facing the viewer, and her as the Mama bear, with her back to us, singing to them, with the lyrics written above her "Sleep in the stars." I'd also like to tastefully incorporate her parents 'names somehow, as they've passed on. Any thoughts are appreciated. Please let me know the cost as well. Thank you! Best, John"
Not everything was clear to us at 100%, for example, how many bears should be in the picture and how he sees it in his vision exactly, so we got back to him about the difficulties and he replied to us in another email and wrote:
"I'm thinking just three, with the bears representing the three of them – smaller bears as the kids (maybe with an "N" over the boy's bed, and an "A" over the girl's bed, facing us, and the bigger bear If you've seen the movie "Hook," that's the type of bedroom I had in mind, but maybe with the beds closer together. I've attached a screenshot (it would need to be a bit brighter as that's a very dark image) but, you're the artist, so feel free to send me any ideas you come up with. Thanks so much Best, John"
This is the reference your John has for us so we know how he imagines the children's room.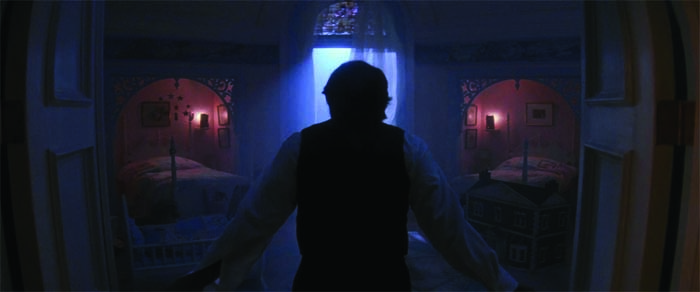 We went back to John with a quote and told him that first thing we would do was prepare a sketch for him to confirm. If he wants us to change something he has to tell us and we will do it according to his will. Here is the sketch we prepared for him: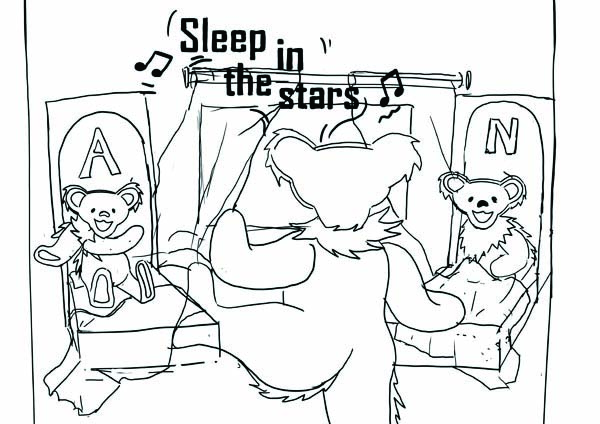 John came back to us and wrote:
"Hey there! Wow. You did a great job. You did exactly what I asked, and now part of me thinks we should see the mama bear's face a little bit. Is there a way to do that where it does not look like she's looking at one child over the other? If not, let's leave it. But I figured I'd ask. Also, will there be some sort of pattern on the walls? Lastly, the text can be a little smaller, and in white (I understand why it's black on this version, as there's a white background).
Really, really happy with the work. You're terrific!"
We wrote him that we understood his requests and started working on the digital illustration. And this is what came out: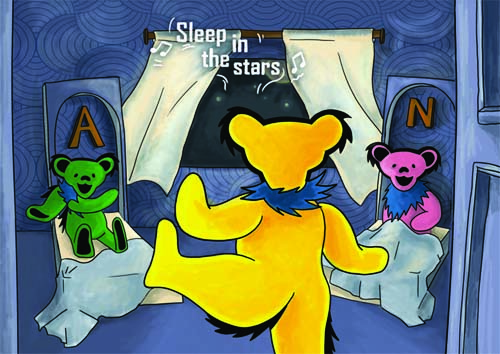 John came back to us and wrote:
"Hi,
You're very talented – thanks for sending! Is this where I'm allowed to request changes? If so, here are my edits:
can we switch the colors of the baby bears? N is for Noah, and A is for Avery (a girl), so I figure the girl should be pink and Noah can be green.
the text – is it typed out, or is that written? I presumed it was typed when you sent it, and was just a placeholder. Can it be hand written out?
the color of the walls / floor / doors – is there a way to make them have a bit more color, but muted, as it's night time? Almost like "Goodnight Moon," but a little darker. I've attached a reference photo for what I'm thinking. Basically, I just lowered the brightness and desaturated the whole image.
Thanks so much – great job !!
All my best,"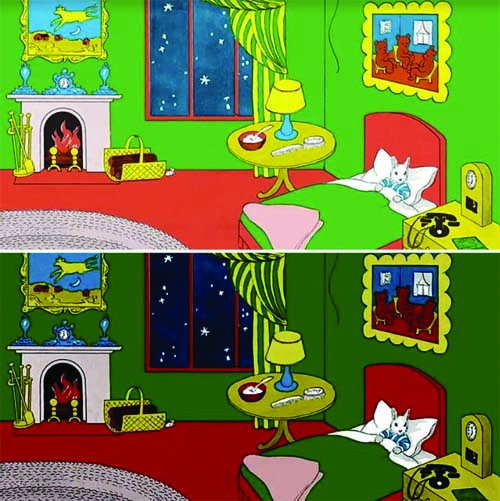 This is the reference your John has for us so we know how he imagines the colors of the room.
We told John that we understood his requests and that we would get back to him in two or three days with the changes. And here they are presented to you: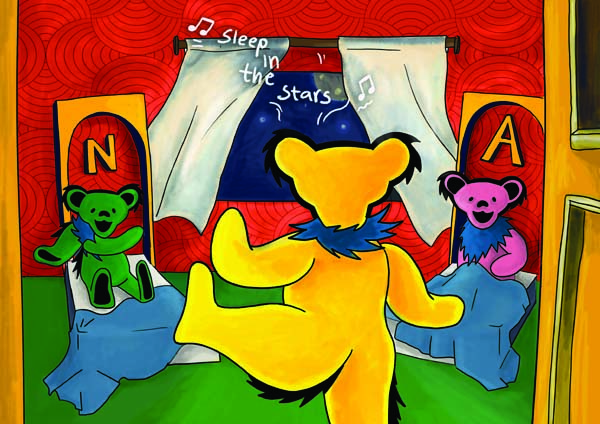 John really liked the illustration we made for him and asked us to make a mural for him in acrylic paints including a frame. Here it is presented to you in John's living room: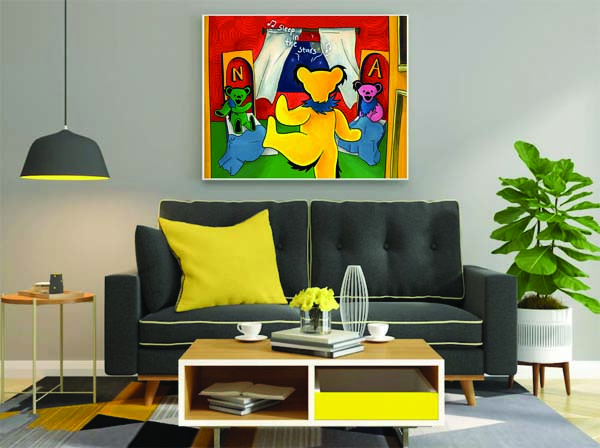 So what are you waiting for?
If you too want a custom painting of the Grateful Dead, or even just an illustration work, all you have left to do is contact us and we will make sure you make your dream come true!