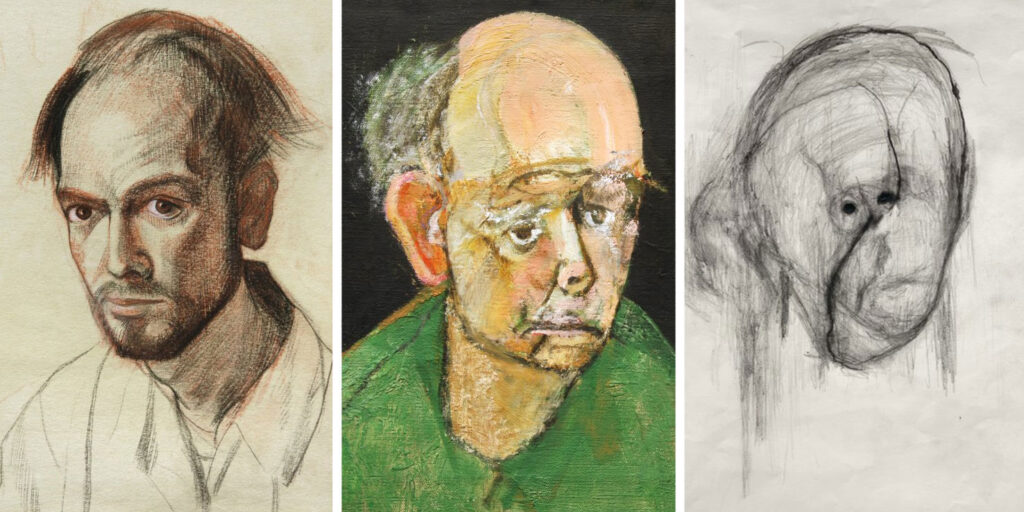 William Utermohlen was Born in 1933 on the south side of Philadelphia, trained at the Pennsylvania Academy of Fine Arts, graduating in 1957. The GI Bill allowed him to study further in Europe, and throughout his travels to France, Italy and Spain, he was notably influenced by classical painters Giotto and Diego Velazquez.
William Utermohlen then enrolled at London's Ruskin Academy, and he would ultimately make London his home base following his 1962 marriage to art historian Patricia Utermohlen. His diverse work throughout the next decades would reflect a range of influences such as London street life, Dante Alighieri's Inferno, the Vietnam War and a fascinating series of paintings based on the Mummers of Philadelphia. The Mummers are a minstrel-type group dating back centuries. The colorful, carnival-like antics of their Philadelphia chapter's annual New Year's Day Broad Street parade are legendary — especially as captured by Utermohlen.
The Alzheimer Portraits
In 1995, Utermohlen learned that he was suffering from Alzheimer's Disease — a devastating diagnosis for anyone, particularly a visual artist. Utermohlen, however, took it upon himself to keep working and began a series of self-portraits that would reflect the effects of Alzheimer's on his abilities. Because Alzheimer's is known for diminishing the power of the brain's right parietal lobe, an area that controls visualization and perspective, Utermohlen's art shows a drift from his prior expert use of line and detail. His strong love of color remained, however, and even with the Alzheimer's — or perhaps because of it — often floated off into the realm of beautiful abstractions. In other works, there was a sense of understandable fear and anger toward his fate.
Utermohlen's willingness to chronicle the changes Alzheimer's would have upon his work not only show a sense of great artistic bravery, but are also helping researchers to track the neurological and physical effects of the disease. Throughout the course of creating his Alzheimer portraits, Utermohlen's wife Patricia reports that her husband was clearly aware of frustrating developments and degenerative changes, but was willing to keep going nonetheless.
Legacy
A traveling exhibit of Utermohlen's pre and post-Alzheimer-influenced works, Portraits From the Mind: The Works of William Utermohlen – 1955 to 2000, has allowed viewers to connect directly and visually with Alzheimer's, expanding public awareness of the disease and the search for a cure. The exhibit has brought an ironic fame to a generally overlooked yet talented painter, and Patricia Utermohlen hopes that her the brilliance of her husband's earlier art will not be completely overshadowed by his later illness.
William Utermohlen died of Alzheimer's Disease in 2007.
Thank you for reading this article! If you have any further questions about this topic please contact us.