We at Paintings Studio today are pleased to present to you information about Lungkata Tjungurrayi, or in its full name "Shorty Lungkata Tjungurrayi". is a Pintupi man born at Walukuritji (c. 1920 – 1987) south of Lake Macdonald, and is best known as an artist, and important member with Papunya Tula Artists.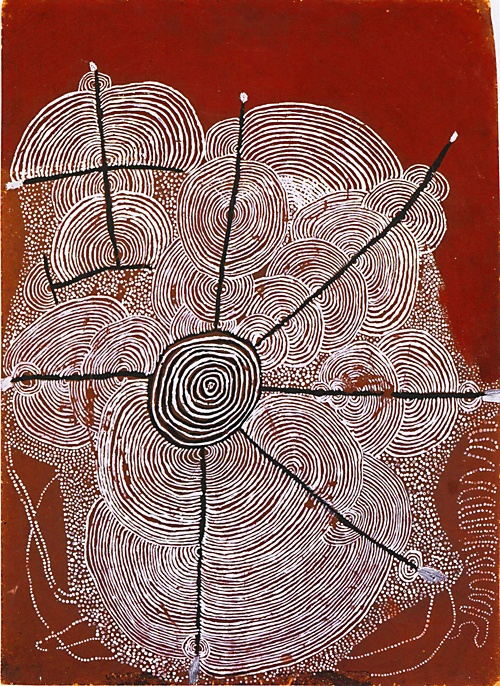 Aborigines used Australia's wealth in ochre colors (iron oxides) to paint their mythologies on sand, cut bark of stringybark tree and their bodies. In 1972, acrylic paints and masonite boards were made available to a few Aboriginal men congregating in a 'painting club'. While the usage of contemporary materials served to adulterate, it also helped to popularize Australian Aboriginal art.
Last year, early 'Papunya' boards were shown at the Grey Art Gallery, NYU. Paintings from the exhibition are reproduced in a book icons of the desert that also provides anthropological information on Aboriginal art and artists.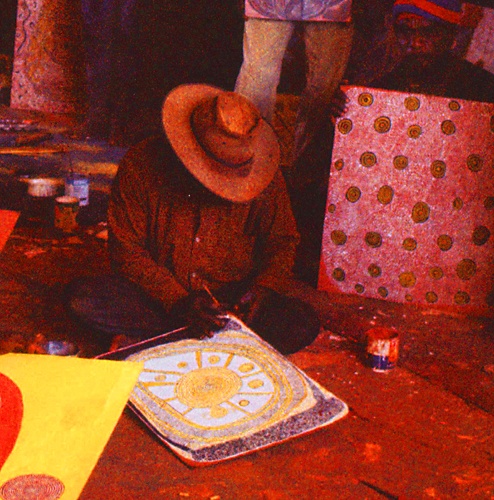 Shorty Lungkarta Tjungurrayi, then 52 yr old, was a member of the 1972 painting club. In his 'Water Dreamings', he painted the distant region of his youth. Water Dreamings can be openly shown unlike secret men mythologies that were displayed during the NYC exhibition in a separate room. At the entrance, a message warned Aboriginal women not to enter there. These secret boards are reproduced in a separate, removable folder within icons of the desert. (Women, too, possess secret mythologies).
Researching classical pigments, a British journalist visited Australia on her quest for ochre. In her book COLOR, a Natural History of the Palette she writes about contemporary Australian Aboriginal painters, many of whom are women. She also visited the schoolteacher who created the 1972 painting club and thereby provided the impetus for popularizing Australian Aboriginal art.
An explanation of Dreaming is given in COLOR, a Natural History of the Palette:
Traditional Aboriginal life only makes sense in the context of the time when Ancestors first arose out of the original mud or sea or sky and brought the first sunrise with them. In English it is articulated as the "Dreaming" or "Dreamtime" – a dream in the sense that it is not set in the past, but a kind of parallel present universe, rather like the one that we operate in while we are asleep. In Aboriginal lore, the Dreaming is the reason for everything that has ever existed and ever will exist. And its stories are told in layers, depending on how ready, or authorized, the listener is to understand them. It is said that your personal Dreaming depends on where your mother was when she first felt you in the womb. The Ancestors who live in that place have given you "anima" – they have animated you – and when you grow up their stories and songs will be in your trust, and you in theirs.