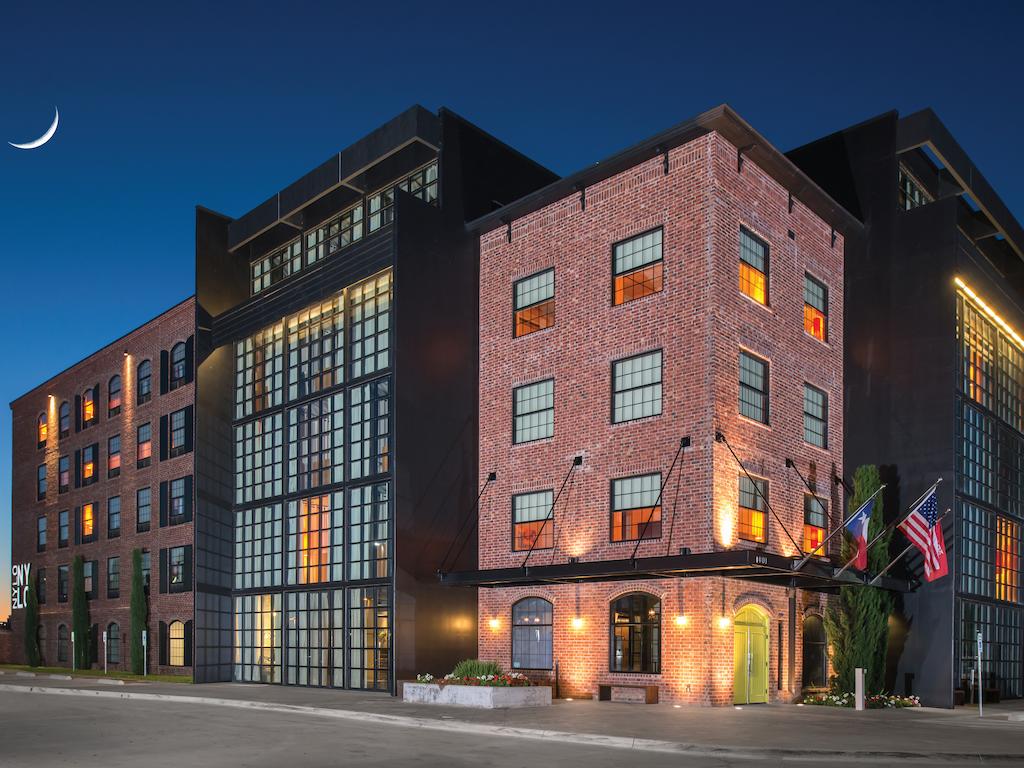 This month's Destination for Artists is a mix of sensibilities that most artists can appreciate. Visitors to the NYLO Hotel in Plano, Texas are immediately struck with the fantastic artwork combined with ecological hotel design.
First Impressions
In the lobby, behind the check-in desk, is a photographic collage created by local photographer Jason Janik. From far away the piece looks like an abstract. As you get closer you realize that the collage is made of small photos that Janik took of the local area. Not wanting to take pictures of just the glamorous side of Plano (a suburb of Dallas), Janik incorporated closely cropped shots of things that most people would over look to include in their art, such as a Wal-Mart sign.
As you move towards the elevators you notice the glass antler chandeliers and then your eye is drawn to the fantastic, larger than life artwork on the hallway wall. These three pieces become almost abstract as you approach them, the opposite of the art first piece of art in the lobby. Simple black strokes on white draw you in and almost makes you forget to get on the elevator.
The New-York style rooms carry on the style and artistry that was found in the lobby, though the feel of the art becomes more local feeling, with Texas sunsets and black and white photos of bull riders.
The art for the NYLO was chosen through a local art contest created by the hotel. Over 500 participants entered. "(Art) is the core of our brand," says Patrick O'Neil, the general manager of NYLO Plano and director of the art contest. O'Neil says that it was hard to organize the art that they received and make it into a cohesive collection for the hotel, because it was luck of the draw. But he says that, "It came together organically." Some of the NYLO contest winners were Jason Janik, Darrell Moseley, Lorraine Haan-Stewart, LRPS, Greg Piazza, Caryl Gordon, and Amanda Smith. (See picture, below.)
On Deeper Inspection
Contrasting and blending with the art is the ecological awareness of the hotel. The walls are bare, raw concrete, which CEO John Russell says is easier to heat and cool, saving electricity. Guests are encouraged to reuse towels to save on electricity, 50% of which is from wind power. The trendy packages for personal items are biodegradable. "It's a big push to save our planet," says CEO John Russell, "and to conserve resources."
Together, the art, design, and ecological consciousness comes together in a place that savvy artists will appreciate and enjoy.
Thank you for reading this article about the NYLO Hotel in Texas! If you have any further questions about this topic please contact us.
---