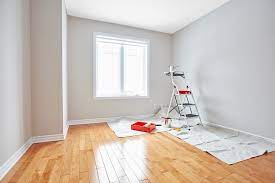 One of the quickest and easiest ways to change your rooms and put your personal stamp on them is to paint them. Interior painting tips like those below can help you revamp your home all by yourself. Although it is easy to find a painter to do the work for you, painting a room yourself is much less expensive and need not be a difficult task. Your local paint and/or hardware store has knowledgeable staff who can explain and help you choose the type of paint and the correct amount you will need. Additionally, here are some hints from my experiences painting to make your work easier.
Interior Painting Tips
1. Take the screws from the outlet and switch plates you removed and tape them to the piece itself. No more losing those little screws or trying to match them to the appropriate plate.
2. Make sure you have a pack of razor blades. If you get paint on a glass window, glass door, or tile you can just scrape it off when it dries with no fuss. They are also useful to cut through layers of paint if you have old casement windows who get painted permanently shut.
3. Carry a wet cloth (I use an old washrag) to use on little drips or "errors." It's handy and can save time later. It's especially useful for doorknobs or window handles that might accidentally get a swipe of paint on them.
4. Have plastic bags or plastic wrap easily available in case you have to leave the scene – for a break, answering the phone, answering the door, a quick email check, whatever. Wrap your brush and/or roller with it so it stays moist and supple. Sometimes distractions take longer or time flies and if so you won't come back to stiffened implements. I save the plastic produce bags from the market which are perfect for this.
5. Wear head covering! It's much easier to clean a cheap shower cap or bandanna than to keep washing your hair until you get the paint out. You will get paint in your hair! You can reuse the head covering when you paint again.
6. Write the color and brand of the paint in pencil somewhere it won't show. I usually write it on the back of one of the outlet plates with a sharpie. Those paper samples you intend to keep can easily get lost. It might also be useful to note the amount of paint used for the room.
7. When rehanging something on your walls, put a small piece of cellophane tape where you intend to sink a nail or screw. This will keep the paint/plaster from chipping and/or cracking. (Likewise, if hanging something on wallpaper, cut a small "v" at that spot and nail right into the wall. Then when you remove it you can just push the wallpaper back in place and it shouldn't show.)
8. Put a little of your paint color in a baby food or other small jar and seal it tightly and store it with your cleaning supplies. Keep it handy for future touch ups. Yes, you are going to save what's leftover in the paint cans but we all know garages "hide" things when we need them. You can purchase a cheap set of brushes perfect for touchups. Check out the school supply section of a general merchandise store for an inexpensive set.
9. Drape a cloth or cloths over your ceiling fan when painting your ceiling. I took my blades off once and shocked to see all the paint on the tops of them.
10. I was once successful in keeping little gnats and bugs off my wet, fresh paint by putting in a little citronella in the paint. It didn't affect the paint but gave off that citrus smell that bugs don't like.
Green Tip: Check out the low or no VOC (volatile organic compounds) paints – good for you, and good for the planet!
Thank you for reading this article about interior painting tips! If you have any further questions about this topic please contact us.