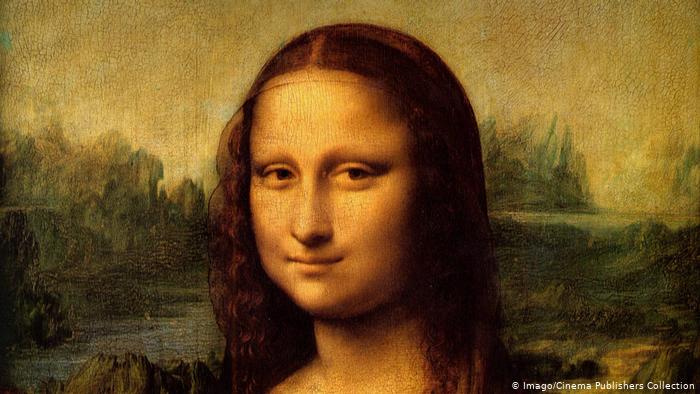 Mona Lisa by Italian High Renaissance master Leonardo da Vinci (1452-1519) is arguably the most recognizable image in the history of Western art. But did you know that the portrait originally had eyebrows? Mona Lisa Secrets Revealed (October 17-December 31, 2007), a new component of Da Vinci: An Exhibition of Genius (August 4-December 31, 2007) at San Francisco, California's Metreon, reveals facts about the artist's mysterious masterpiece heretofore unknown. Recent scientific studies sanctioned by France's National Laboratory and Paris' Musée du Louvre, the painting's keeper, irrefutably confirm 25 discoveries about the composition's original appearance.
Da Vinci: An Exhibition of Genius
This breathtaking interactive presentation, a decade in the making, surveys the wondrous accomplishments of painter, draftsman, sculptor, architect, engineer, scientist, anatomist and inventor Leonardo da Vinci. The intellectual interests of this quintessential polymath included: fauna and flora; mathematics and geometry; physics and mechanics; civil, military and hydraulic machinery; flight; musical instruments; and philosophy. Taken from designs in some 6000 intact pages from his personal codices (notebooks), 65 of 120 full-scale modern recreations of Leonardo's inventions are on display, many fabricated by Rome's Anthropos Association using 15th-century Italian techniques and materials. Among those on view are da Vinci's glider, parachute, ball bearing and gear systems, early helicopter and military tank, bicycle, automobile and submarine.
Also exhibited are remarkable color reproductions of many of Leonardo's famous works of art: the Litta Madonna (ca. 1481-97); anatomical drawings; and preparatory sketches for the Battle of Anghiari (ca. 1503). They're joined by interactive presentations on the Last Supper (ca. 1492/94-98), Vitruvian Man (ca. 1490) and Equestrian Monument to Francesco Sforza (1493), explaining the artist's experiments and achievements in painting, drawing and sculpture.
Mona Lisa Secrets Revealed
This recent installation illustrates the work of Pascal Cotte for the first time in the United States. The passionate French engineer invented the 240-megapixel Multi-spectral Imaging Camera to take multiple photographs of Mona Lisa using patented infrared technology and intense illumination. Over an almost three-hour period, Cotte photographed the portrait, his session resulting in 13 original images. Two years of technical analysis allowed Cotte to document precisely what pigments Leonardo actually used, where the artist made changes to his composition and where restoration efforts have occurred. This innovative kind of photography permits the viewer to see Mona Lisa as it originally appeared. The show features a high-definition color recreation of Cotte's work alongside an accurate replica of how the painting appears today. Oversized copies of the portrait and its various sections, enabling one to examine the painting better, are also on display. Its original blue sky, vibrant mountains, green trees and Mona Lisa's pinkish face are now visible to the human eye.
Some of the verifiable revelations about the painting's composition are startling.
The painting was never cut to be framed.
The top of the sky, sitter's eyes and lips were restored.
Mona Lisa had eyebrows.
Glazes or glacis (semi-transparent layers of paint) in Mona Lisa's veil reveal the order in which Leonardo painted the portrait.
The artist changed the position of the left hand's index and middle fingers.
Her dress had lace that has vanished over time.
A blanket, rising above the wrist of Mona Lisa's left hand that holds it, covers both her knees and stomach.
Thank you for reading this article! If you have any further questions about this topic please contact us.