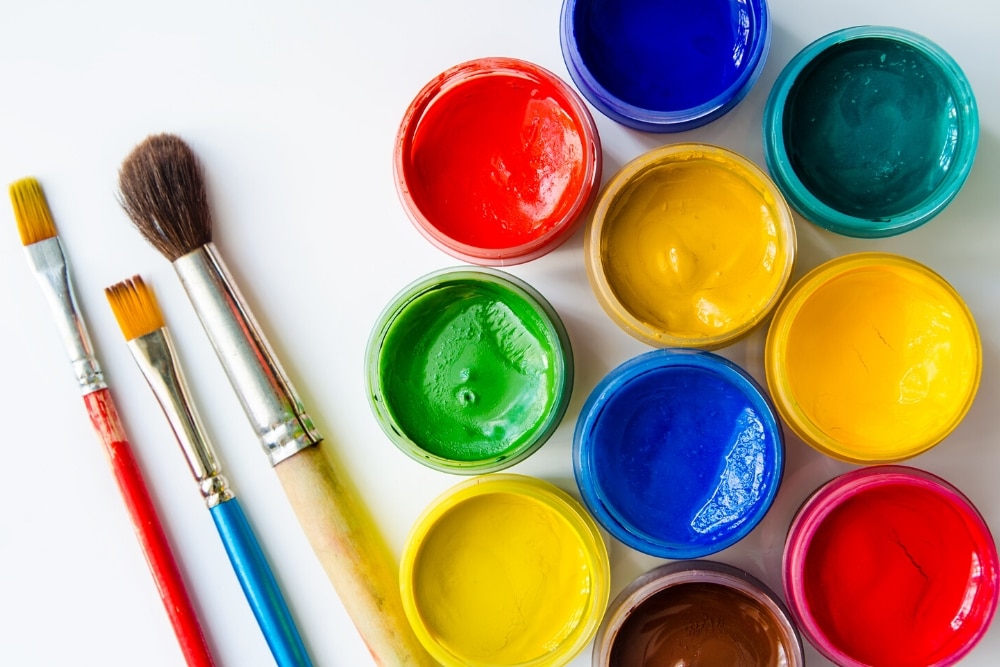 So, you want to repaint an area of your home. It might even be the outside of your home. There are several factors to consider before even heading to the paint department and choosing paint.
The very first thing you want to consider when choosing paint it, do you want it to match a color of an item you have laying around? If this is the case, you might want to go to a specialized paint store versus your local lumber yard. Your local lumber yard more than likely doesn't have a paint matching machine and their technique is based soley off of their own two eyes. For them, matching colors is as simple as taking the item you have and comparing it to their dedicated paint samples. This doesn't work if you want the exact color you are holding in your hand. They can get close but it won't be the same color.
Another thing to consider when choosing paint is, where will you be painting? Is it inside or outside? There's not one kind of paint for both. There's exterior and interior. There's also the consideration of which finish you want. You have the choices of, flat, eggshell, satin, and semi-gloss. Some paint finishes don't do well for the inside and then there's the matter of personal preference.
Flat paint is used mostly for outdoor painting. It has no gloss to it and holds everything on it. It can not be cleaned. It can make the color you picked look very dull. This paint is also the cheapest of all the different finishes. Eggshell paint is a step up from flat and can appear flat at first, but if you look closely there is a sheen appearance to it. It is one of the paints that are used outside, but I've seen it used for indoor application. A lot of people prefer eggshell above flat for the simple fact it can be wiped clean of fingerprints and such. Satin holds a little bit of gloss to it and is recommended to those who do want gloss, just not a lot. Satin is used for indoor application and can also be wiped clean. Semi-gloss is the type of paint that will make any color really stand out. It does not leave the color of paint dull. I have never had anyone use semi-gloss on the outside of a house.
If you don't need to match a color, shopping at the local lumber yard will do just fine. The people behind the counter will have the knowledge you need to find the right paint. They can direct you based on what your preferences are. I would suggest not leaving the decision entirely up to another person who isn't going to be in your home 24/7. If you have an idea of what you want they can help you find it, but in the end, the decision should be left to you.
Let's say you found the color you want and you know what finish and whether it's exterior or interior, now it's time to mix. But, you don't want to jump ahead of yourself because there's one more piece of advice to consider before finalizing that decision. It is always best to go outside with the paint samples you've chosen and place them against the sun. The lighting in the store can affect the way the paint looks and can make you grow to hate the color once it's mixed and put on your wall. While some companies will return a paint they've mixed for you, some will not. Take this into consideration when you have them mix the paint for you.
Picking out a paint seems pretty easy, but it's something you must look at in a cautious manner to avoid dissatisfaction and a do over.
Consider what you want to put in the room. What colors will be connected to the paint? Will you grow tired of the color? What kind of mood do you want to set for that room? Would you prefer a light color or maybe a darker one?
The next step when painting is to gather all the needed supplies. Majority of us know what they are. If you don't, here's a list: painting tape (usually blue in color to tape off corners and light fixtures), clear plastic sheeting (to protect your carpet or tile), a paint tray, brushes, rollers, covers for the rollers, and of course a way to open your paint (which is typically provided at no charge with the paint you buy). Not all of this is required but is advised.
Before beginning to paint you want to tape off the areas that might get accidental drops on them. You can cover them with the blue tape you've bought. For the floors, it's better to tape the plastic to something rather than just lay it. Find an area you want to start painting and tape off the plastic to the very bottom of the wall. This will ensure some of the drops from the roller or brush don't fall and get dried into the carpet. Everytime you move to another area you want to do the same.
When painting you can use either a paintbrush or a roller. My recommendation is a roller, unless you want to spend a pretty penny on a professional paintbrush. Cheap paintbrushes can leave brush strokes, which makes the task of painting pointless. For trim and around light fixtures or window sills, I would suggest using a foam brush. The application is much neater and doesn't leave you with unsightly brush strokes that you'd rather do without.
The last piece of advice I have when painting? Make sure you can fit all the items into your budget. Painting is not an inexpensive job unless you want to do a shortcut, which I don't think anyone would recommend. The paint itself can cost anywhere from $15-$30 a gallon. You don't need to hire anyone to paint a room for you. All you need is patience, the supplies, and the time. A painter is likely going to charge you for the supplies and their time.
Thank you for reading this article about choosing paint! If you have any further questions about this topic please contact us.